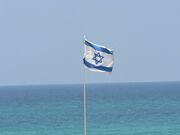 The State of Israel is a country in western Asia (the Middle East) with a population of about 7 million. It was formed from British governed land inhabited by Arabs, Jews and others, after World War II, mainly due to the Holocaust, by declaration of the United Nations.
Israel was rated 23rd (out of 177 countries) on the 2006 Human Development Index. [1]
Citizens of the State of Israel are known as Israelis.
Mehozot
Jerusalem District
Northern District
Haifa District
Central District
Tel Aviv District
Southern District
Judea and Samaria District
Cities
Acre
Afula
Arad
Ariel
Ashdod
Ashkelon
Baqa al-Gharbiyye
Bat Yam
Beersheba
Beit She'an
Beit Shemesh
Beitar Illit
Bnei Brak
Dimona
Eilat
El'ad
Giv'at Shmuel
Givatayim
Hadera
Haifa
Herzliya
Hod HaSharon
Holon
Jerusalem
Kafr Qasim
Karmiel
Kfar Saba
Kfar Yona
Kiryat Ata
(To be continued)
See also
References
External links
Community content is available under
CC-BY-SA
unless otherwise noted.